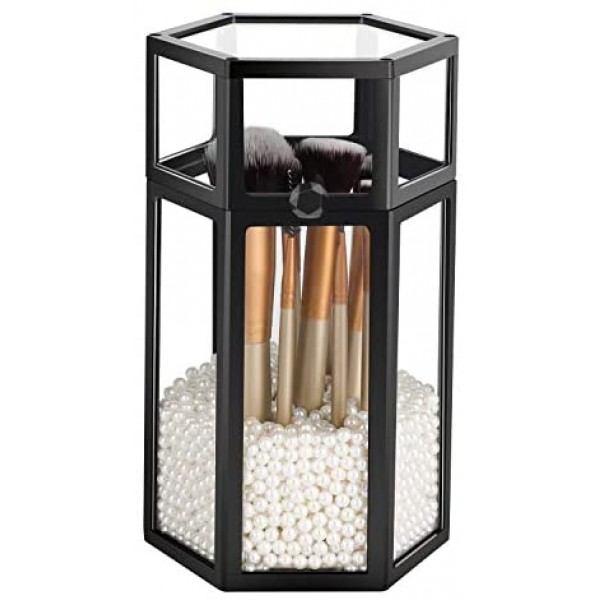 Suream Glass Makeup Brushes Holder with lid
Do you still annoyed and irritable because of your messy table and vanishing makeup brushes?
Come on! Let us show you our stylish and generous GLASS MAKEUP BRUSHES HOLDER.
Not only it can collect your makeup brushes,but it will become an elegant decoration on your dressing table.
Dustproof & Waterproof
Makeup brush holder only if you want the best! Made of ABS material, our holder is safe, odorless and sturdy. Our makeup holder can keep the brushes away from dust and water with the lid.
Easy to OPEN & CLOSE
Perfect for storing all kinds of cosmetic makeup brushes, eyebrow pencils, eyeliners and lipsticks.
Beautiful Round Pearls to Beauty Your Life
If you choose our makeup holder, you can get such beautiful pearls, and they are flat and stable enough with large density to organize the brushes, also great for you to make DIY decoration.
Easy to clean
Brush Organizer is made of premium glass material and designed with large capacity. Easy to clean with simple design.
Fashionable & Elegant makeup brush holder with lid
Material: Glass+ABS (Glass+Acrylonitrile Butadiene Styrene)
Unit Size: 8.46in x 4.92in ( 215 × 125 mm)
Weight of brush holder: 19oz (540g)
Weight of pearls:10.6oz (300g)
Ideal gift for makeup lovers!
Our makeup holder is a space saver for organizing wide, narrow, large or small makeup brushes for desktop, dresser, bedroom and bathroom vanity.
Glass Organizer for Makeup Brush, Suream 8.46" Black Hexagon Transparent Beauty Cosmetic Holder with Lid, Eyeliner Display Storage with White Pearls for Desktop, Dresser, Bedroom vanity and Countertop