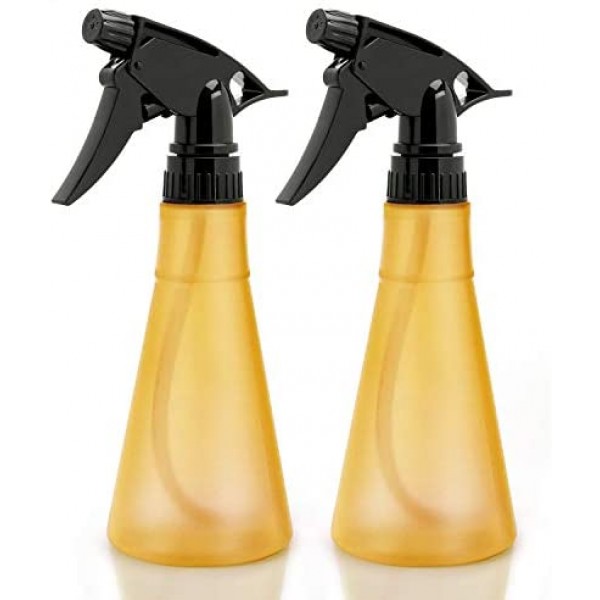 Suream Chic Water Bottle with Adjustable Settings:MIST, STREAM and OFF, 2Pack, 10.6oz
Suream has own team and commits to develop a series of spray bottles with good quality to meet our user's need. If you are searching one stylish-looking bottle which can both mist your hair to style and spraying plants to grow, our bottle works! There are three setting modes of our bottle nozzle: MIST & STREAM & OFF, nicely adjustable spray from soft mist to compact stream, easily turning to fit your needs. Also, yellow color and cone bottle body design make it chic and unique on your countertop.
Water Sprayer with Adjustable Head

Our bottle is so functional that the bottle nozzle is able to adjust the stream to different settings: MIST & STREAM & OFF. It's leakproof when the nozzle is OFF mode.

Fine Mist to Spray and Easy to Hold

When the bottle nozzle is adjusted into mist mode, it can produce a nice smooth mist, perfect for moistening hair or watering plants. Meanwhile, you'll love how it feels in your hand! Made of durable plastic, it's handy and comfortable to hold and press with cone shape design, ideal for salon use, planting, cleaning even pet training.

A Steady Stream to Plant

The bottle nozzle adjusts from mist to stream and gives a nice stream with just a gentle and simple turn, fitting to spray plants or flowers.
Read more
Product Specification
Material: PET (Polyethylene terephthalate)
Size: 8.5 × 3.0in (216 × 76mm)
Color: Yellow
Weight: 2.3oz (64g)
Volume: 10.6oz/300ml
Package Includes: 2 × Spray Bottle
Read more
Functional Water Sprayer for Daily Use, A MUST Have!
2 Pack Empty Adjustable Mister, Suream 10.6oz/300ml Yellow Mist Stream Mode Bottles with Trigger for Hair, Refillable Plastic Water Sprayer for Haircutting, Planting, Gardening, Ironing and Cleaning