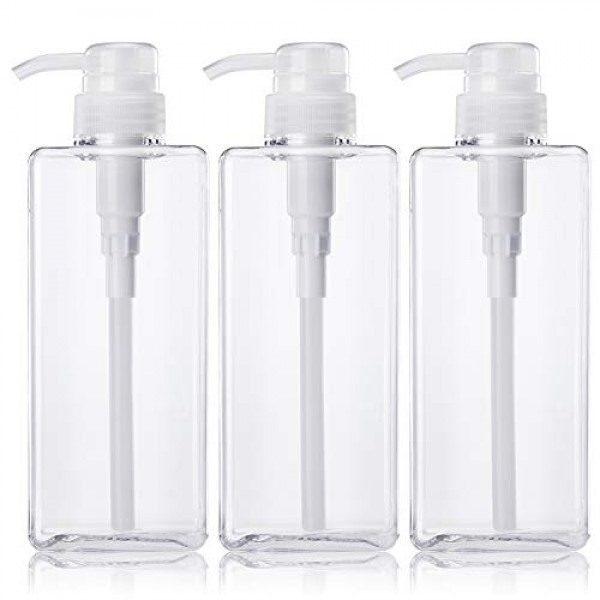 Suream Clear Hand Pump Bottles for Bathroom
As a new brand, Suream consists to bring products with good quality to meet our users' need. Our pump bottles are made of durable PETG material, they are a nice addition to bathroom and kitchen sink with simple and modern style, perfect for shower, body wash and dish wash. And there are different sizes to choose for travel, child bathroom or home daily use.
Rotating Pump head

Open Easily: pop the pump head anticlockwise to open and fill the lotion; Stay Closed: press the pump head and rotate the pump head clockwise to keep the bottles closed.

Transparent and Easy to Use

You can get the shampoo, lotion or hand sanitizer etc. by just pumping the bottle head gently. And you'll be able to tell how much liquid you add and how much is left with clean looking.

Well-designed Soap Dispenser

It's leakproof with the rotating head and easy to refill with a "wide opening" fill. Square bottom is flat to place stably on the countertop in case to drop down.
Read more
Product Specification
Material: PETG(polyethylene terephthalate glycol)
Unit Volume,Size and Weight:
5.1oz, 4.9 × 2.2 × 1.4in (124× 56 × 36mm), 1.3oz (37g)
9.9oz, 5.5 × 3.0 × 1.8in (140 × 76 × 46mm), 1.8oz (50g)
15.8oz, 6.1 × 2.8 × 2.8in (155 × 71 × 71mm), 2.6 oz (75g)
22oz, 7.7 × 2.7 × 2.7in (195 × 68 × 68mm) ,4.2 oz (120g)
Color: Clear
Package includes: 3 x Soap Dispensers
Kindly Notice: Don't place the bottle with liquid for a long time(half a year), regularly use clear water or alcohol to clean but not hot water.
Read more
Functional Soap Dispenser for Daily Use
SUREAM 3 Pack Clear Empty Pump Bottles, 22oz/650ml Plastic Refillable Square Containers for Essential Oil Soap Lotion Shampoo Conditioner, Large Hand Pump Dispensers for Bathroom and Kitchen Sink Use